Croatian wine advice, Food and wine pairings, the Svirče Box and Basement Wine bar in Zagreb in the news at Croatiangrapes.com.
Wine advice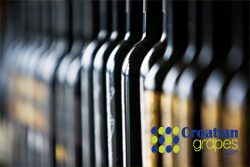 All wines in the range of croatiangrapes.com are made of indigenous Croatian grapes. And we understand you'd like to know with which wines our wines are comparable.

But it's not fair to compare them, so we won't do that. We do give a clear description about the taste and smell on our website and we have launched 'wine advice'. This is a tool to find out which Croatian wine you might like.

We do not say that our wines taste like other wines, but we do believe that if you prefer a particular wine, you could try one of our wines.

Food and wine pairing recipes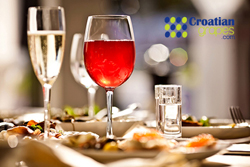 We started publishing recipes that perfectly pair with the wines from our range. It can be traditional Croatian recipes and dishes inspired by Croatian cuisine.

All of these recipes can be found in our archive on the site. So soon there will be a recipe available for every wine.

The first recipe we've published is 'Caramelised figs with mascarpone cream and cinnamon'. This heavenly dessert perfectly pairs with a glass of Hadrian Prosek. The recipe can be found here. 

Svirce box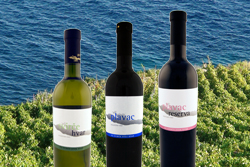 Taste the island of Hvar with our Svirče Box. In this box you will find three wines Svirče Hvar, Plavac and Plavac Reserva, made of unique indigenous Croatian grape.

In the box you'll find one white and two red wines. Here you will find the description of the three beautiful wines that reflect the timeless soul of the island, the warm sun and cool Croatian Adriatic.

The Svirce Box is now only € 21,00 (+ shipping). With the box you will get a flyer with detailed information about the winery, the three wines and food and wine pairings.

Basement Winebar Zagreb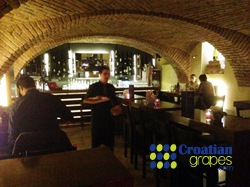 If you go on a trip to Zagreb and like to try a rich assortment of Croatian wines, go to Basement Wine bar in the centre of town. The bar is located in an old cellar. You can taste many varieties of wine and they serve only Croatian wines.

A Dalmatian plate is a good recommendation to order with your wine. This is a plate with local specialties such as Prsut (smoked ham), delicious local cheeses, olives and bread.

Basement is located in downtown Zagreb at Tomiceva 5. It is open every day from 9 am to 2 am. Only on Sundays it closes at midnight. More information can be found at their website.