In February we have a number of SUPER DEALS for you. We offer a number of special Croatian wines with huge discounts up to 32% or 5,50 euro discount per bottle!
But for all deals: We have LIMITED STOCK so order quickly. When it's gone, it's gone. With the products in the web shop you can see the actual number of bottles that is available.
SUPER DEAL 1: Kabola Malvazija
The special white Kabola Malvazija is now perfectly ready to drink. This wine is top favourite with wine tastings. The eco-certified wine is dry, soft and fresh with pleasant minerals.
This wine goes well with pasta with light sauces with meat or fish, risotto with scampi or shrimp, mushroom risotto, white fish, shellfish, chicken in creamy sauces, grilled vegetables and Japanese food.
Kabola Malvazija normally costs 13,99 each. Order two bottles now and pay only 9,49 each. That is 4,50 discount per bottle!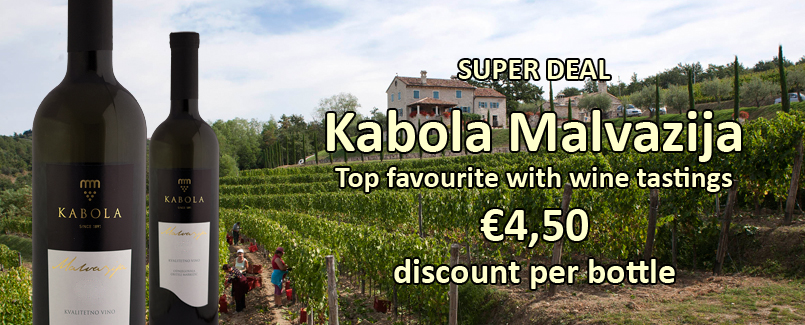 SUPER DEAL 2: Iuris Saltwater Sauvignon Blanc
Believe it or not, ALL our Iuris wines are discounted now. The first offer from this winery is the Iuris Saltwater Sauvignon Blanc. This fresh floral Sauvignon Blanc has beautiful minerals through the special Saltwater terroir where the grapes grow.
You can order this wine now with a discount of 4,00 euro per bottle, from 13,65 for 9,65! But order quickly: this wine has very limited stock.

SUPER DEAL 3: Iuris Cabernet sauvignon
Now you can also get the Iuris Cabernet Sauvignon with a huge discount. The wine is bright garnet red in colour. In the nose you get roses and caramel. The wine has a very smooth structure. The taste is fruity, slightly sweet with red berries and ripe cherries. In the after taste you can taste the minerality of the Saltwater terroir.
Order the wine now with 4,50 euro discount per bottle. From 16,25 for 11,75! For this offer applies as well: we have limited stock and When it's gone it's gone.

SUPER DEAL 4: Iuris Tempera
The top wine Tempera from Iuris is on sale as well. This wine has a very special and therefore incomparable blend (tempera) of the Dalmatian grape Plavac Mali (sister of the Zinfandel and Primitivo) and the indigenous Vranac blended with two internationally known grapes Cabernet Sauvignon and Merlot.
Iuris Tempera normally costs 21,99 each. Order two bottles now and only pay 15,49 per item. That is 5,50 discount per bottle!