Croatian wine regions – Slavonija: the Chablis of Croatia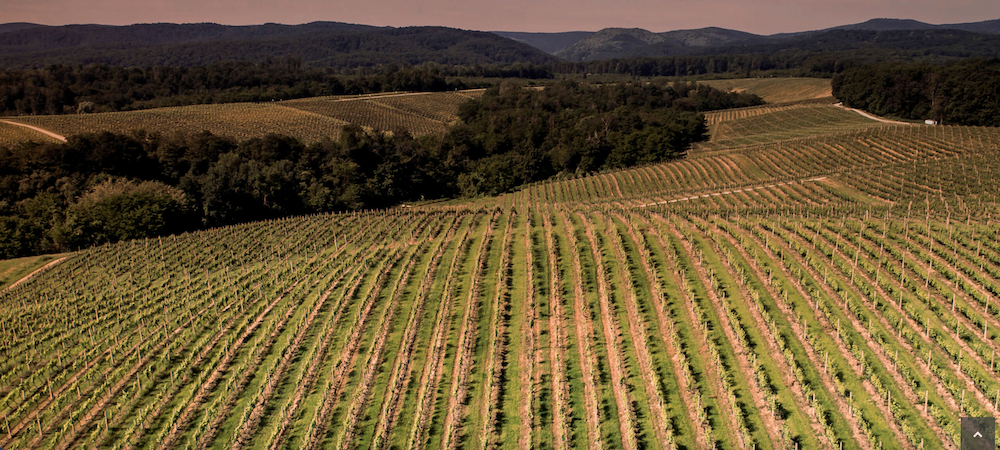 Croatia has a number of different wine regions with very different climates, so that completely different grape varieties are grown everywhere. Part 2: Slavonija.
The eastern province of Slavonija (not to be confused with the neighbouring country of Slovenia) lies between Hungary, Serbia and Bosnia. When you drive east from Zagreb, the landscape is even flatter than the Dutch 'polders'. You wonder if you are really traveling towards a wine region. You drive through vast corn fields and endless farmlands full of grain, sugar beets and sunflowers.
Almost half of all Croatian farmland is located in this area. Because of the agricultural character of the region, Slavonia is therefore called 'the breadbasket of Croatia'.
Ancient seabed
Not many tourists come here, although the area has beautiful nature and offers many opportunities for walking, cycling and horse riding.
These activities are extremely well possible in nature reserve Papuk. From the flat country you suddenly end up in a hilly landscape. This is where once, long ago, the Panonian Sea began. This inland sea extended to present-day Budapest in Hungary. And that is where the Slavonian wine regions begin. This hilly landscape is the old coastline and the grapes grow here on clay soil that used to be the seabed.
Wine production plays an important role in this region. In Roman times, the various wine regions in Slavonija were given names such as 'Golden Valley' and 'Wine Mother' for a reason. Because there is no lack of space, the largest wineries and wine export companies in Croatia can be found in Slavonia.
All grapes in a row
Because of the continental climate, white grape varieties grow best here. In any case, 70 percent of Croatian wine production is white. The Graševina grape (also known as Welshriesling) is the most important grape with almost 23 percent of the total wine production in Croatia. Delicious dry, fresh and aromatic wines are made from the Graševina grape, but also sparkling wines.
Other important white grape varieties in the region are Silvanac Zeleni (green sylvaner), Pinot Sivi (Pinot Gris), Traminac (Gewürztraminer) and Chardonnay, which incidentally has one Croatian ancestor.
The main blue grape variety in the region is the Frankovka (Blaufränkisch). Red wines are made from this, but it is also used for rosé and sparkling wines. Other commonly used blue grape varieties are: Zweigelt, Pinot Noir, Cabernet Franc and Syrah.
Slavonian oak
The region is also famous for its oak wood. The oak trees from Slavonia are highly sought after for making wine barrels, which are sold all over the world.
The Italians in particular like to get high-quality Slavonian oak to give their wines that characteristic... well, Croatian taste. But also in Croatia itself, of course, people like to use barrels of Slavonian oak to give the wines a nice maturation.
Continental climate
Slavonija has a continental climate. As a result, you have cold winters, with snow in the vineyards, and hot summers with temperatures of over 35 degrees Celsius. However, there is something special about the climate in Slavonia. It is usually warmer in the fall than in the spring. This aspect is very important for the quality of the grapes. This allows the grapes to ripen undisturbed. This creates an excellent balance between acids and sugars in the grapes and the aromas can be optimized in peace.
But there is more that makes this area special. The soil is, as said, an old seabed. It is clay soil and if you plow it, fossils and shells still come up. This special terroir gives a special minerality to the wines. That is also the reason that we secretly call Slavonija the 'Chablis of Croatia'. Although the French Chablis is much further north and has a more cool climate, there are some similarities.
To begin with, the terroir with the fossils. But there are more similarities. Chardonnay also comes from which, just like in the Chablis, have had no oak. Incidentally, almost no white wine from Slavonia is aged in wood. They are all fresh white wines with a high minerality. You can even taste the mineral terroir in the red wines from the region.
Spicy sausage and hearty fare
The Slavonian kitchen is a rustic kitchen with hearty and spicy dishes. The Kulen sausage, a spicy, dry sausage that is mainly eaten in winter, is a good example of this. They also love pork here and they cook a lot with paprika and garlic.
This is of course a big difference with the 'light' dishes that you find on the coast, but the 'heavier' and spicy dishes in Slavonia fit perfectly with the climate and also extremely well with both the white Graševina wines (which extinguish the spiciness and break the fat) as with the red Frankovka wines, which have the same effect slightly chilled.
Our wineries
In the Slavonia region we currently work with winery Feravino and winery Enosophia. Even in Croatia there are people who think that Enosophia is a completely new player on the market. In reality it is already a very old winery. It is namely the restyling of winery Feravino.
For us, the name Feravino was not wrong at all. In fact, we finally had a winery without complicated punctuation marks that people here can pronounce without any problem. In Croatia they thought differently. They thought the name was a bit ordinary. Feravino is in fact a contraction of vino from the village of Feričanci.
They decided to rename the winery Enosophia, which is a contraction between Enologija (winemaking) and filosofija (philosophy). With this new name, the new vision of the winery has also been established. They don't want to follow but set trends.